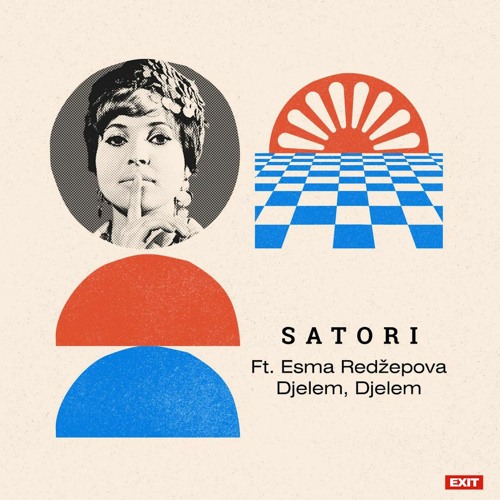 Satori will release his new single 'Djelem, Djelem' on July 1st. The release marks the launch of his own label Maktub Records and is built around recordings by legendary Roma singer Esma Redžepova. 'Djelem, Djelem' is an exclusive collaboration between Satori and the Serbian music festival EXIT.
On 'Djelem, Djelem' many worlds come together, from Satori's musical roots to his distinctive performances that make him a household name on international festival stages. Serbian festival EXIT, awarded 'Best Festival in Europe' multiple times, contacted him during the Corona pandemic with a recording of legendary Roma singer Esma Redžepova, who died in 2016. After her son gave permission, Satori set out to work with her music to create the soundtrack for the re-birth of the festival. The result is 'Djelem, Djelem'.
This incredible collaboration is the brainchild of EXIT Festival's founder Dusan Kovačević. Witnessing the resurrection of festivals worldwide, Esma's spine-tingling vocal on 'Djelem, Djelem', singing about the resurrection of spring felt like a natural fit. Contacting her family, Dusan received permission from Esma's son, making Satori the only artist ever to have the experience of reworking Esma's legendary vocal.
"The song performed by Esma Redžepova is about the release of spring. EXIT wanted to carry that symbolism through to the reopening of the festival world post-Corona," said Satori. "For me, being able to work with Esma's original recordings was very special. NPR voted her as one of the 50 Best Voices Ever a few years back and no one else has ever had the chance to work with her voice. For his part, her son felt it was a huge honour that we were able to preserve the essence of her work and have his mother involved in the reopening of EXIT through 'Djelem, Djelem'."
'Djelem, Djelem' will be released July 1, a week before the start of EXIT 2022 (July 7-10 at the Petrovaradin Fortress in Novi Sad, Serbia) and is an exclusive collaboration with the festival. In addition, it is the first new single since the release of Satori's April album 'Dreamin' Colours' and the first release on Satori's own label Maktub Records. Later this year, Satori's first release together with The Band From Space will also be presented on that label.
Spotify https://open.spotify.com/album/0H6mvMwAUkKtR5fbnpMrU6