► Buy on Beatport: https://www.beatport.com/release/bellatrix-ep/3776960
EP: Matteo Magni, MT93 (IT) – Bellatrix EP
LABEL: Gain Records
RELEASE: 2022-08-25
CATALOG: GPLUS310
► FOLLOW:
https://soundcloud.com/matteomagnitechno
https://soundcloud.com/mt93official
https://soundcloud.com/giulia_music_official
https://soundcloud.com/paxtech
https://soundcloud.com/gain-records
► PRESS: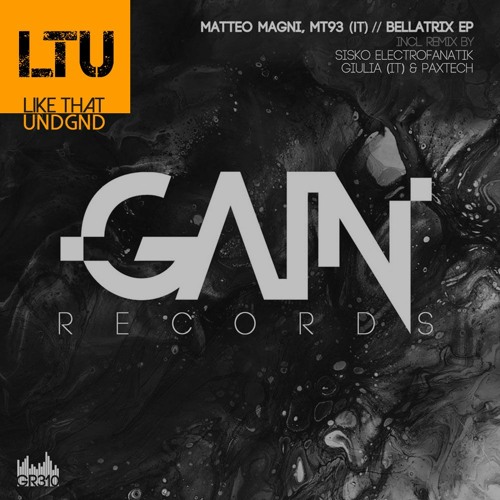 Sisko Electrofanatik's Gain Records welcomes a collaborative techno EP from Matteo Magni & MT93 (IT). The two explosive originals are also accompanied by a collaborative remix from GIULIA (IT) and Paxtech, plus a solo remix by Sisko Electrofanatik.
Matteo Magni is an Italian artist from Modena who is also a solo producer who has worked with the likes of Phobiq, Reload Records and Orange Recordings. He has also collaborated with Stiv Hey on Spartaque's Codex.
MT93 (IT) is working with Matteo Magni for the first time, but has collaborated with other artists and dropped solo releases on scene leading imprints such as Unrilis, Odd Recordings, Suara and Kraftek.
Stepping up on remix duty, Sisko Electrofanatik drops a hard-hitting remix in the style he has featured on other record labels such as AnalyticTrail, Fe Chrome, We Are The Brave, and Autektone Records.
GIULIA (IT) and Paxtech have been regular collaborators on Gain Records and they have also teamed up on other labels including OFF Recordings. GIULIA (IT) has also dropped solo releases on Reload and Paxtech has featured solo music on Say What?.
"Bellatrix" opens the release with its monstrous lead synth, acid flickers, driving percussion and tantalising female vocals. Sisko Electrofanatik's remix of Bellatrix is a heavier version with pounding kick drum and added aggression.
"Celestial Anomalies" blends a euphoric lead synth with brooding intensity, the remix by GIULIA (IT) & Paxtech adds an acid synth line, while scaling back the kick drum to create a powerful version that's full of atmosphere.