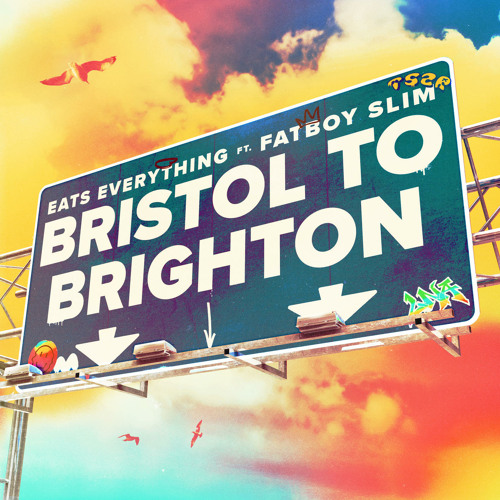 The UK dance titans previously linked up on 2015 single 'All The Ladies'
Eats Everything 'Bristol To Brighton' ft. Fatboy Slim
(Three Six Zero Recordings / Ministry of Sound)
Stream & Buy :
https://orcd.co/bristol2brighton
Dance music superstars Eats Everything and Fatboy Slim unite for the second time on new single 'Bristol To Brighton', out 30th September on Three Six Zero Recordings / Ministry of Sound.
Combining brash, spoken word vocals with slick grooves and dizzying breakdowns, 'Bristol To Brighton' is an unapologetic club banger from two masters of the trade. The UK electronic titans previously linked up on 2015 single 'All The Ladies'. More recently Eats dropped 'Tell You What It Is', anacclaimed collab with Dutch electronic duo Shermanology.
"I made an instrumental and felt it needed a little bit of spice so I called my old mate Norm up and asked him if he'd be up for tinkering with the track/doing a vocal for it." Eats Everything explains. "He gladly obliged and came back with the vocal Brighton To Bristol, Bristol To Brighton. I'm from Bristol, he's from Brighton, we are good mates, so why not celebrate that connection by celebrating our cities!"
Speaking about the collaboration Fat Boy Slim says: "I cannot believe it has taken my 38 year career and Daniel Pearce for me to have my first lead vocal on a tune. Long overdue, perhaps misplaced…"
A contemporary UK electronic music institution, Eats Everything has a global reputation built on versatility, superlative skills and a positive outlook: core fundamentals that have made him one of the most in-demand artists around. With his roots firmly embedded in the vibrant, influential music culture of his Bristol hometown, Eats channels his broad musical palette into every aspect of his output.
One of the biggest and most successful DJs in the history of dance music, Fatboy Slim helped to popularise the big beat genre in the 90s and has since landed #1 albums and singles, while touring across the globe. Three decades on, he continues to push the envelope and cement his status as one of the greats.
A link-up between two UK dance legends, it's only right that 'Bristol To Brighton' drops on Ministry of Sound / Three Six Zero Recordings.
https://soundcloud.com/eatseverything/bristol-to-brighton-feat